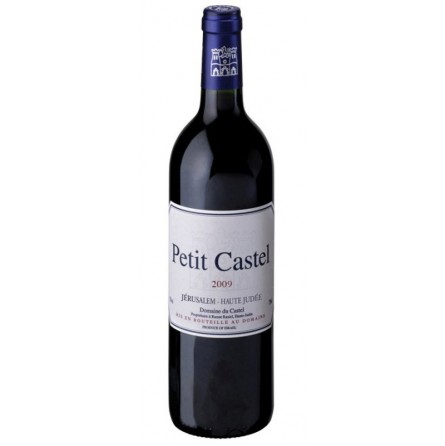  
Petit Castel is Domaine du Castel's second wine. It is made in a classic Bordeaux style from Cabernet Sauvignon, Merlot, Petit Verdot, Cabernet Franc and Malbec grapes.
Petit Castel is aged for 12 months in French oak barrels, followed by approximatively 4 months in concrete tanks, prior to bottling.
The nose exhibits red and dark fruits aromas and hints of leather and the mouth reveals a full bodied, well balanced wine with silky tannins. The wine is perfect to be enjoyed now and should continue to develop for the next 3 to 5 years.
About the winery
The story of Domaine du Castel dates back to the 1970's when Eli Ben Zaken, born in Alexandria, immigrated with his family from Milan to Israel. With the little money he had, he purchased a piece of land in a community by Jerusalem, with a clear goal to fulfill his dream: to work the land of Israel. Eli built a chicken coop and planted an orchard of various fruit. The first vineyard was planted in 1988, by the family's home and four years later, family and friends were invited to the first harvest.
This harvest was then set to age for two years, in two oak barrels, which Eli imported from France himself. The first 600 bottles were unveiled in the spring of 1995 and Eli named the wine "Grand Vin". His friends and supporters showed much enthusiasm, but Eli was still uncertain about the quality of the wine. With the help of journalist Dalia Penn-Lerner, a bottle was sent to the head of Sotheby's auction house in London. The high praise that was sent in return, convinced Eli to continue planting and open the winery, which was named "Castel" after the nearby Crusaders' fortress.
Data sheet
Country

Israel

Region

Judean Hills

Type

Still

Producer

Domaine du Castel

Color

Red

Vintage

2018

Size

75 cl

Mevushal

No