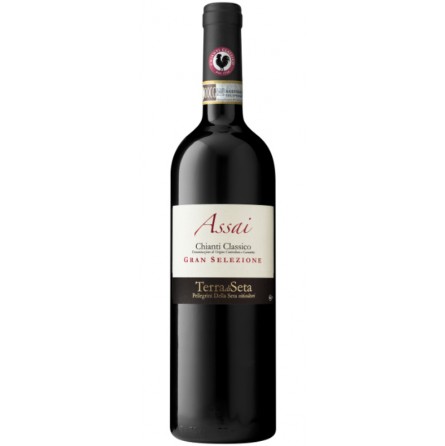  
Terra di Seta Assai 2015
A superb Chianti Classico Gran Selezione "Assai" made 100% from Sangiovese grapes, grown organically at the winery. This wine is aged for 30 months, including 24 in French oak barrel!
Terra di Seta is a family run winery based in Siena, in a hilltop at about 1,574 feet above sea level, in a natural south-facing amphitheater.
This is a sunny and windy place, with warm days and cool summer nights, perfect for the ripening of Sangiovese grapes, the most important variety of Tuscany.
Terra di Seta was founded in 2001 by Daniele della Seta and his wife Maria Pellegrini as an organic winery. For the first few years they grew their grapes and sold them to local producers. In 2007 Danielle and Maria decided to start producing their own wines and a year later, in 2008, they added the kosher certification to produce all their wines kosher.
Terra di Seta is highly regarded for the very high quality of the various wines they produce, gaining consistently some of the highest marks in international competitions and from well-known wine critics.
Beside the wine, Terra di Seta also produces a superb organic, 100% estate, olive oil and honey. They also have guest houses on the winery and even a dairy kosher restaurant where you will be able to enjoy delicious and traditional tuscan dishes! A really unique experience!
Data sheet
Country

Italy

Appellation

Chianti Classico

Producer

Terra di Seta

Color

Red

Vintage

2015

Size

75 cl

Kasherut

OK

Cultivation mode

Organic