On sale!
-€7.20
Save €7.20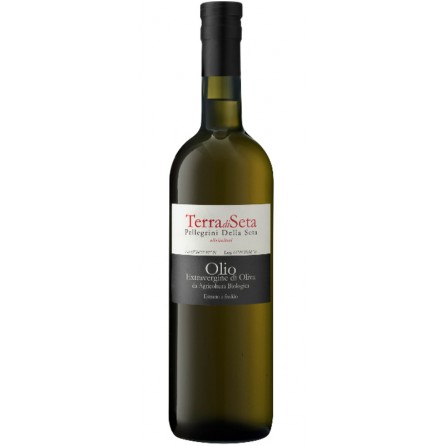  
Terra di Seta Olive Oil a 100% organic and estate produced Extra Virgin Olive Oil made from the Frantoiano, Leccino, Pendolino and Moraiolo olive Tuscan varieties.
The olive grove is located in the Chianti region (Tuscany), on a hill at about 500 meters above sea level, one of the most known Italian places for the quality of the olive oil.
Production process
The olives have been harvested by hand and transported to the mill for pressing. At the mill, olives have been immediately cold pressed, solely by mechanical means, in the absence of oxygen. This process greatly reduces oxidation and ensures long life and freshness of the oil. At the end of the extraction the olive oil has been filtered, without adding any chemical.
Acidity Level
Terra di Seta Olive Oil has an extremely low acidity level, only 0.05%! A low acidity level is an important factor in the quality of olive oil.
About Terra di Seta
Terra di Seta is a family run winery based in Siena, in a hilltop at about 1,574 feet above sea level, in a natural south-facing amphitheater.
This is a sunny and windy place, with warm days and cool summer nights, perfect for the ripening of Sangiovese grapes, the most important variety of Tuscany.
Terra di Seta was founded in 2001 by Daniele della Seta and his wife Maria Pellegrini as an organic winery. For the first few years they grew their grapes and sold them to local producers. In 2007 Danielle and Maria decided to start producing their own wines and a year later, in 2008, they added the kosher certification to produce all their wines kosher.
Terra di Seta is highly regarded for the very high quality of the various wines they produce, gaining consistently some of the highest marks in international competitions and from well-known wine critics.
Beside the wine, Terra di Seta also produces a superb organic, 100% estate, olive oil and honey. They also have guest houses on the winery and even a dairy kosher restaurant where you will be able to enjoy delicious and traditional tuscan dishes! A really unique experience!
Data sheet
Country

Italy

Region

Tuscany

Producer

Terra di Seta

Size

75 cl

Date optimale de consommation

Février 2021